ADVOCACY
FROM OUR NATIONAL OFFICE:
September 2020:
Advancing 9-8-8 can't wait.
This easy-to-access, nationwide 3-digit emergency number (9-8-8) will help people in a mental health crisis.* And it's close to becoming a reality.
The Federal Communications Commission unanimously voted in July to designate 9-8-8 as the universal three-digit dialing code for the National Suicide Prevention Lifeline* by July 2022. Now, we need Congress to act to make mental health services available when someone calls for help.
While the House and Senate have both passed similar (but not identical) bills to make resources for 9-8-8 available, the House must pass S. 2661, the National Suicide Hotline Designation Act, to get this over the finish line. This bill will help ensure that when a person is in a mental health crisis, their community has the resources to connect them to mental health support instead of the back of a police car.
The need is urgent. More than half of people in the U.S. report that COVID-19 has had a negative impact on their mental health, increasing demand for mental health helplines and hotlines across the country.
9-8-8 can't wait.
Congress needs to act. TODAY (September 15) is a National Day of Action to call on Congress to act on 9-8-8, and your Representative needs to hear from you.
Ask your Representative to urge House leadership to pass S. 2661, the National Suicide Hotline Designation Act.
July 2020
We're running out of time for Congress to #Act4MentalHealth. This could be the last COVID-19 relief package that Congress passes this year.

Without quick action by the Senate, it could get harder for you or somebody you know to get help in your community. Life-saving services such as crisis care, peer support, treatment programs, and housing will have to fight to keep their funding. Congress can help by providing critical support to states and communities to meet skyrocketing demand for mental health services – helping people get the mental health care they deserve.
Email your Senators and tell them that mental health can't wait. They need to act NOW to make sure people with mental health conditions aren't left behind.
Increase your impact by forwarding this email to three friends.
April 2020
The COVID-19 crisis is affecting everyone, causing more demand for mental health services. The NAMI community knows, even in the best of times, how hard it is to get mental health care.
Unfortunately, Congress' response to this crisis hasn't focused enough on mental health, leaving mental health providers struggling to offer services and keep their doors open.
That means it's getting harder than ever for people to get the help they need.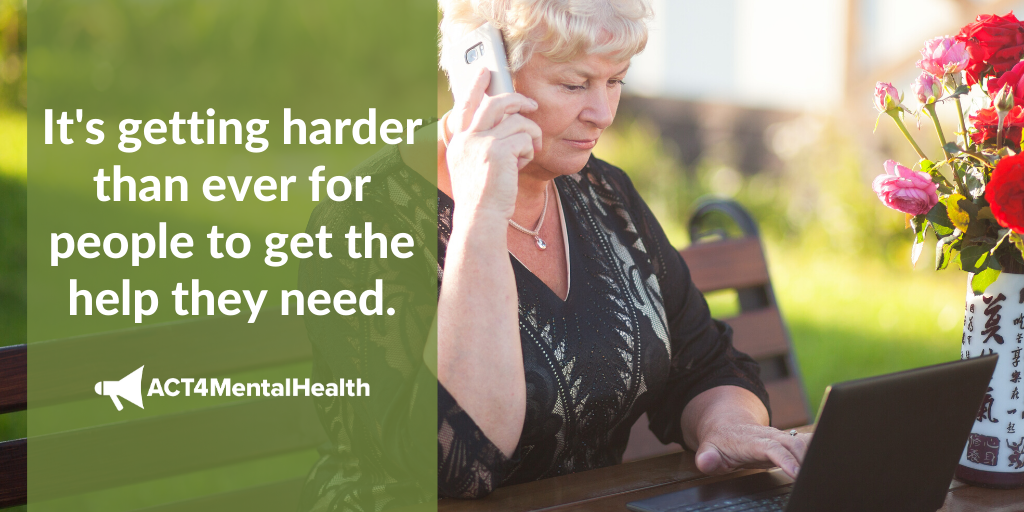 "Since the outbreak of COVID-19, it has been impossible to get appointments or help. Even after being hospitalized, my son was discharged without an appointment. He has been without therapy for weeks." – NAMI member in Pennsylvania
In the coming weeks and months, we're going to need more mental health care than ever. This is why Congress needs to act quickly to not only preserve our existing mental health system but to also increase our system's capacity.
NAMI and dozens of partners are demanding $38.5 billion for mental health providers and organizations so they can stay open in our time of greatest need.
Here's how you can help:
Take two minutes and tell your members of Congress how COVID-19 is affecting your or your loved one's ability to get mental health services. You'll find a template when you click the "Take Action" button below, but we strongly encourage you to add a few sentences with your own story to make it personal.
Members of Congress need to hear your voice now. As a constituent, you have the power to ensure people with mental health conditions aren't left behind in our nation's response to this crisis.
Thank you for your advocacy.
Jessica Hart
Senior Manager, Field Advocacy
NAMI
March 2020
This year, the federal government is holding the 2020 U.S. Census, and we need your help to make sure that Mental Health Counts!
The census count happens every 10 years, and it helps federal, state and local governments distribute resources for important services. These include resources that help people with mental illness, such as housing, Medicaid and transportation. To make sure our communities and Pennsylvania get the resources it deserves, we need you to make sure you are counted.
This month, your house will receive a letter from the U.S. Census Bureau with instructions on how to fill out the census. Only one person in your home may complete the census.
You can respond online, by phone or through the mail. The census form is available online and by phone in English and 12 additional languages.
If you have a loved one who is currently living somewhere else, visit NAMI's website to learn how they will be counted.
The census will ask you about things like your name, age, race or sex. Your answers will be kept secret. The census will NOT:
ask for your Social Security Number
Send people to jail for not answering questions
Ask for money or your bank account information
Ask if you are a citizen of the United States
To learn more about how people are counted, how you can participate in the census, and how the census impacts people with mental illness, visit www.nami.org/census.
Thank you for your attention in this matter and for making sure that #MentalHealthCounts in 2020!
______________________________________________________________________
March 2020
As the Senate prepares the third in a series of COVID-19-related relief bills, please urge your Senators to ensure people affected by mental illness can maintain their treatment, get health and mental health coverage, access needed supports, and lift up the nonprofits they depend on, like NAMI.
We need you to ask your U.S. Senators to do 4 things:
1. Remove barriers to mental health treatment. People need ways to manage existing mental health conditions and maintain mental wellness while reducing their exposure to the coronavirus. To do this, Congress should:
Eliminate all barriers to widely implementing telehealth in all public and private health plans and encourage all health plans to provide extended supplies and/or mail order refills of prescriptions. Both actions will help people with mental illness avoid risk of exposure to COVID-19.
Approve funding for Emergency Response Grants at the Substance Abuse and Mental Health Services Administration (SAMHSA) to assist states in continuing to provide treatment for people with mental health conditions and substance use disorders.
2. Promote coverage for health and mental health care. People with mental health conditions are often uninsured or face barriers to getting needed treatment and supports. These challenges are even greater during a crisis. To address this, Congress should:
Immediately launch a special enrollment period for commercial health insurance in the Marketplace (HealthCare.gov) to make sure people have access to affordable, quality health care coverage.
Require the use of "presumptive eligibility," which allows certain providers like hospitals and clinics to enroll people in Medicaid that they believe meet eligibility criteria.
Ensure free COVID-19 testing and treatment for everyone, including people who are uninsured.
3. Ensure safe housing for people with severe mental illness. Many people with severe mental illness experience homelessness or housing insecurity and are uniquely vulnerable to being exposed to the virus and outbreaks in shelters or encampments. With the loss of steady income, many more individuals are also at risk of losing housing. Congress must act by:
Providing $5 billion to serve people who are homeless and help them stay safe and healthy during this emergency.
Approving an additional $5 billion to provide rapid rehousing for people who are at immediate risk of becoming homeless and funding for rental assistance to help low-income renters weather this crisis.
Putting a temporary stop on evictions to ensure that renters and homeowners maintain stable housing during this crisis.
4. Support nonprofits' capacity to serve. The economic impact of this crisis will also touch charitable organizations like NAMI organizations and our partners. Nonprofits need support to meet greater demand and fill important gaps during this time. To assist, Congress should:
Provide targeted assistance to 501(c)3 organizations to help them keep their doors open during this crisis and offer paid leave to their employees.
Your Senators need to hear from you TODAY. Please contact them now to ensure people with mental illness are helped in their response to COVID-19.
Together, we can ensure that no one in our community is left behind.  
Thank you,
Angela Kimball, National Director of Advocacy & Public Policy